---
---

GET LUSCIOUS LONG LASHES WITHOUT USING FAKE LASHES OR EYELASH EXTENSIONS!
Are you TIRED of buying fake lashes with glue that irritate your eyes?
We developed one simple system, comprised of everything needed for a perfect eyelash perm, that you can use over and over giving you over one years worth of long fluttery eyelashes.
STOP spending money at the salon getting uncomfortable eyelash extensions.
Our LashLift System is faster and more convenient, NO falsies needed!
Whether it's for a night out with your friends, or dates with your loved one - the lash lift system will mean you have beautifully long eyelashes to live life on your terms. 
Try our Lash Lift® Home Lash Lifting System® which dramatically INCREASES the length of eyelashes leaving them looking AMAZING!


It works by using a 4-Step lifting system that EXTENDS your eyelashes by for MAXIMUM volume. The best part? It's 100% NATURAL, no mascara, no false lashes, just your TRUE beauty!

It's EASY TO USE so you can get a sexy look in SECONDS - Simply apply the 4-Step system and watch the TRANSFORMATION. It's provides LONG LASTING results (1-2 months) NO FLAKING either!
SUITABLE for ALL skin types and NON-IRRITATING & HYPOALLERGENIC
WHY OUR SYSTEM IS FOR YOU?
❤️ Keeps your lashes permed for 2 months - if you don't want to regularly curl your lashes, try our lash lift kit to keep your lovely lashes curled up to 2 months
❤️ Comes in a Do-It-Yourself kit - have it delivered to your home and use it anytime you want without ever stepping outside. Save more money from having it done in the salon
❤️ Can also be used for lash-lifting business - purchase just 1 kit and you can curl up to 15 times
❤️ Includes nutrition serum - perming contains chemicals that may make the skin dry, so our Lash Lift Kit is complete with nutrition serum for your lashes
❤️ Portable + Complete with lash-lifting tools - easy to carry the whole kit around, no need to buy other tools because this kit has it all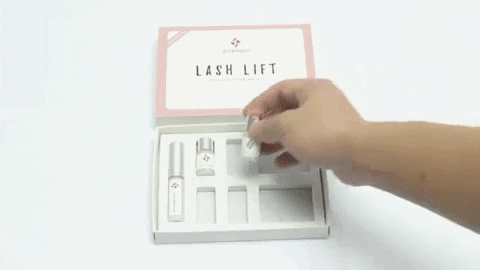 HOW TO USE:
Use the cleanser to clean off oil, dirt and residue from eyes

Apply the eye pads onto the lids close to the lash line

Apply the glue on the eyelash to keep it secure on the pads

Let set for one minute

Use the #1 Perm Lotion on the lashes and let sit for 8-12 minutes

Use the #2 fixing agent on the eyelash, let sit for 8-12 minutes

Clean the eyelashes and lift pads with cleanser, and apply #3 nutrition lotion to the eyelashes

Use the cleaning solution to clean off all residue.

Done! Enjoy your beautiful curled lashes for up to 8 weeks! 

  
One kit has all these lash-lifting tools:
5 pairs of Silicon Lift Pads

3 pieces of Y-shaped Perming Brushes

1 bottle of Cleanser agent

1 bottle of Perming agent

1 bottle of fixation agent

1 bottle of Perming glue

1 bottle of Nutrition serum

5 ml Lash glue
---